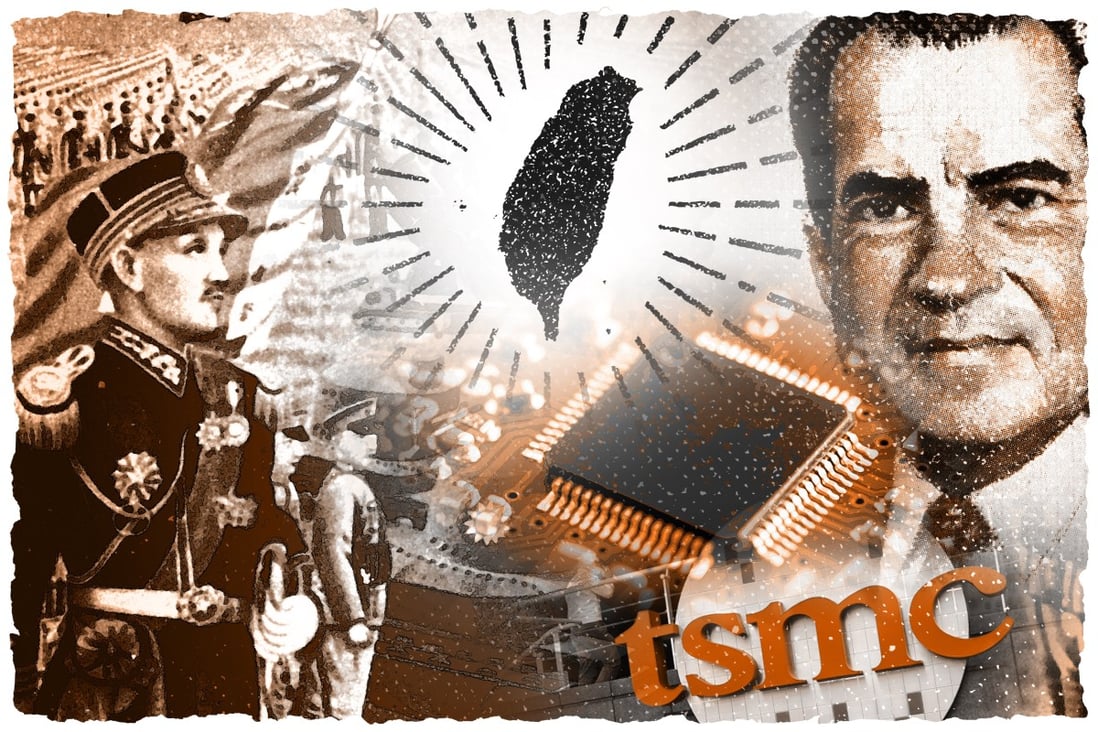 In February 1972, US president Richard Nixon defied conventional foreign policy wisdom when he arrived in Beijing for meetings with Chinese leader Mao Zedong. In recognition of the trip's historical significance, the South China Morning Post is running a multimedia series exploring interesting points of the past 50 years in US-China relations.
After the United States formally switched diplomatic recognition from Taiwan to mainland China in 1979, the cast-off island had to strike out on its own. That fate has spawned the world's 22nd-biggest economy, backed by a giant, globally linked tech industry and all but zero poverty.
Since the Chinese civil war of the 1940s, Taipei's authoritarian Nationalist government had counted on US support militarily and diplomatically, when Washington saw Taiwan as a Beijing counterweight and called it "free China".
But Washington severed diplomatic relations in 1979 to recognise mainland China after signing the Shanghai Communique that emerged from the icebreaker meeting in 1972 between Nixon and his Chinese counterpart Mao Zedong.
"It was like self-reliance," recalled Danny Ho, an economist and chief executive of the DMI energy consulting firm in Taiwan. "The Nationalist government was very proactive in investing in Taiwan's infrastructure, including ports and facilities for oil and gas, because to develop they had to depend on selling overseas."
Fifty years after Nixon arrived in Beijing with an intention on both sides to cast Taiwan adrift, the island has thrived both in spite of – and because of – that diplomatic isolation.
After 1979, Taipei built the island's economy on cheap labour and infrastructure left over from Japanese colonisation in World War II – even as the increasingly powerful mainland kept up military pressure on Taiwan to unify under one flag. Mainland forces had won the civil war in 1949 and the Nationalists fled to Taiwan where they rebased.
Nixon was keen to boost ties with mainland China because of its market potential backed by a large, fast-growing population.
Taiwan carved out its industrial base despite the global energy crisis of the 1970s, said Joanna Lei, a former Taiwan lawmaker and chief executive of the Chunghua 21st Century Think Tank in Taiwan. "The gradual withdrawal of American support of the Nationalist government came at a worst possible time," she said.
Strongman Chiang Kai-shek's government helped get Taiwan past the oil crisis and stagflation of the 1970s by building 10 major infrastructure projects, Lei said. The projects launched in 1974 covered ports, power plants, highways and the major international airport for a total of about NT$300 billion (US$10.6 billion).
Taiwan's industrial base was already taking off with a boom in factories that pumped out low value-added goods such as petrochemicals, footwear and rubber products, Ho said.
Petrochemical revenue reported by Taiwanese companies now comes to about NT$800 billion to NT$900 billion per year, he estimated.
Government departments in that era led some of Taiwan's flagship firms, including the government-operated oil refiner CPC Corp – which continues to hold down energy prices so industry can flourish.
A separate government research and technology initiative fostered tech firms like the contract chip maker Taiwan Semiconductor Manufacturing Co (TSMC) – a behemoth of the world's hi-tech sector today. That initiative made "Taiwan a hi-tech manufacturing powerhouse", Lei said.
"The about-face by the US hurt Taiwan tremendously," she said. "Many felt the island was to sink, figuratively, and fled."
But, she said, the government ultimately "was able to instil confidence with strategies that eventually transformed the island's economy to the top of the 'four little dragons'".
Taiwan became that dragon – also known as an Asian tiger or a newly industrialised economy – in those years along with Japan, Singapore and South Korea. All four economies were known for rapid industrial growth and a sudden boost in living standards. Taiwan's GDP per capita had reached US$28,180 in 2020.
"With the need to reinforce Taiwan's position during the diplomatic loss, Taiwan … enjoyed a rapid economic development beginning from the late 1980s," said Huang Kwei-bo, secretary general of the Taiwan-based Association of Foreign Relations.
Hi tech emerged in the 1980s, and TSMC now produces more chips annually than any of its rivals. The sector that runs largely on contract assembly of PCs and phones makes up about a fifth of Taiwan's US$785.6 billion economy today.
Moreover, mainland China and the US are both intimately intertwined with Taiwan's economy, a boon to the island's unflinching annual GDP growth.
Tech firms based in the US depend now on Taiwan's chips and other components. Taiwan's direct investment in the United States came to US$13.7 billion in 2020, up 13.6 per cent over 2019, according to the Office of the US Trade Representative.
But there are signs that US companies will not depend on Taiwan forever. US President Joe Biden campaigned in 2020 on continuing to "reshore" the manufacture of what he called "critical products" rather than depend on imports – the third president to focus on that. Former president Barack Obama had kicked off that effort and Donald Trump sustained it.
TSMC is building a US$12 billion factory compound in the US state of Arizona to be closer to key buyers, and a company spokesperson said in mid-March that TSMC was "executing plans" to expand in the US among other places.
Of the company's US$40 billion-US$44 billion capital budget, 70 to 80 per cent would be allocated for advanced chip-processing technologies, the spokesperson added.
US officials have also approached Taiwan's second-biggest chip maker, United Microelectronics Corp (UMC), about setting up a factory in the Midwestern industrial city of Detroit, according to Taipei media reports. A company spokesperson declined in March to comment on the possible US investment, however, and called it "market speculation".